Amela19: It's kinda simple for my personal taste, but I guess it's somewhat cute. I'd add a necklace and some earrings too to spice it up. 8,5/10
And for my previous post, I wasn't really going for a ballerina look, it just so happened that the ballerina pumps were the same color as that flirey skirt and there weren't many options for that pose anyways in shoes (so sad that the sitting pose got the least amount of clothing pieces), but I guess you were right, some more ballet related stuff for a studious ballerina vibe might've made that look more cohesive.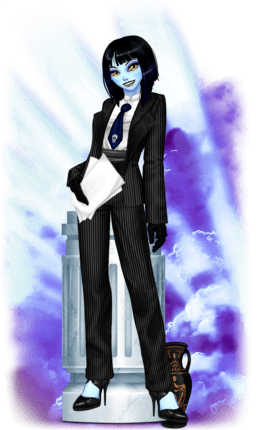 For this week I made yet another cosplay inspired by my favorite webtoon, Lore Olympus, that finally finished its first season (it'll be a long wait until August when season 2 comes out). This time, the character is Hecate, goddess of whitchcrafts and magic (in the comic she's also depicted as Hades's rightman CEO assistant, thus the business woman look).
---