Back to the FAQ (help, hints, ...)
My Pet - How do I feed my pets?
Next to your pet, you will find the action bubbles for your pet Click on the food bubble to purchase what you need at the supermarket and/or to feed your pet.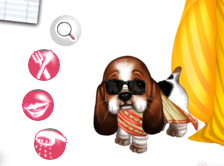 When you feed the pet shown on your profile, all your other pets are fed, too! Plus, there is no distinction between dog/cat food and you can have up to 20 treat and food products.